It's been booked out by the likes of Justin Bieber and Will-I-Am, with a nightly price tag running between an eye-watering $10,000 and $25,000 a night for a minimum two-night stay.
But now thankfully for the rest of us mere mortals, Richard Branson's exclusive heart-shaped Aussie retreat Makepeace Island will be available to visit for the first time as part of a fun foodie event for Noosa Food & Wine Festival (May 16-20, 2019). Watch the clip above for a tour of the luxe A-list stay.
Organisers have announced Branson's Sunshine Coast digs as the official location for Moët Island, the festival's newest Champagne-laced event.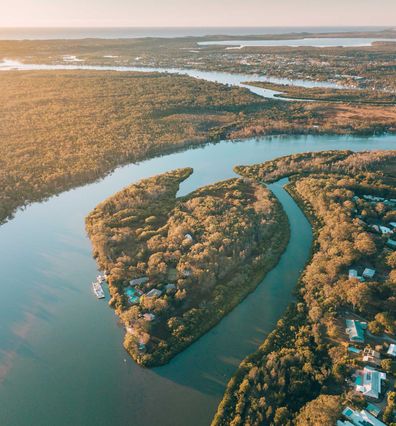 For $195, festival-goers can enjoy fresh seafood prepared by local culinary superstar Alastair McLeod, live DJ tunes and, of course, a sneaky sticky-beak at Branson's plush Noosa pad.
The ticket price includes transport via the Noosa River Ferry, departing from Hastings Street, where guests will be treated to onboard free-flowing Moët & Chandon Imperial. This is followed by a chic, coastal lunch heaving with top-notch Queensland produce and bottomless Moët & Imperial Ice, as well as a selection of beer, wine and cocktails.
It will be the only event in the festival line-up for 2019 set on the water.
Makepeace Island reopened at the end of 2018 following a highly-anticipated multi-million dollar face-lift.
Lucky overnight guests can now make good use of the private resort's flashy new multi-layered pool, tennis court, outdoor chess set and theatre, as well as having their own professional chef and full staff.
Although festival guests won't get full use of all the island's lavish facilities, organise promise "first-class service" among the fizzy Moët & Chandon goodies on offer, so at least you'll feel like a VIP in your ultra-exclusive surrounds.
For more information or to purchase tickets visit noosafoodandwine.com.au.