The night before our cruise departs from the bustling Piraeus Port, I look out on the darkened cityscape and see one shining beacon of light.
The white sandstone of the Parthenon stands illuminated above the capital city of Athens, a hint of the deeply rooted history and culture I'll be immersed in over my five-day Aegean jaunt.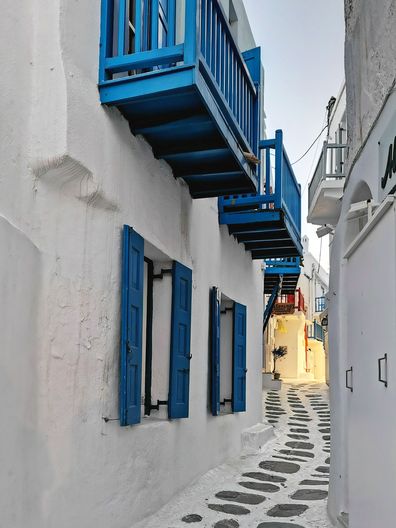 With authentic food and delightful native cocktails all included, the only thing I need to do is peruse the pre-booked excursions and consider whether to head for a spa treatment immediately or save it for after some meandering.
I'm travelling on Celestyal Cruises Iconic Aegean itinerary. Over the next five days I step foot in Mykonos, Kusadasi, Patmos, Rhodes, Crete and Santorini on a whirlwind tour of the coastal region. But far from your typical cruise experience, the cultural immersion doesn't start and stop at the ports.
Mykonos has rightly earned its reputation as a party island, however as we arrive shortly before peak season we're presented with an entirely different side of the region.
The iconic white homes in the seaside town are being freshly white washed, while the windowsand doors are painted one of the 13 hues approved by council.
Aesthetics is everything in the Mediterranean labyrinth, void of the hordes of tourists you'd find on a summer pilgrimage.
While on a walking tour of the island, each new turn greets us with a quaint seafood restaurant, private church or luxury boutique that wouldn't be out of place on the streets of Paris.
I'm surprised to recognise Australian gumtrees, brought here generations ago after a Greek local came Down Under and thought the smooth trunks would blend seamlessly into the landscape.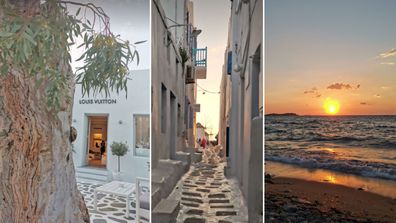 The walking tour culminates in our first breathtaking sunset of the trip. Mykonos's famed windmills stand against the crimson sky, reflecting in calm waters as they lap on the pebble beach. It's sublime.
The rest of the itinerary is no less breathtaking. For a change of pace, we take a step back in time to Ephesus, one of the largest and best-preserved archaeological sites in the Mediterranean.
After landing in Kusadasi, Turkey and taking a short bus ride, our tour guide laughs as guest start taking photos of the humble entrance and lets us know "you haven't seen anything yet". He's not wrong.
As we walk through the mind-bogglingly beautiful ruins he talks passionately about life in the ancient city, stopping to point out details like a preserved game board etched into stone, once used by men as they waited to trade their wares.
Once a port and the centre of travel and commerce, Ephesus is now nine kilometres from the sea.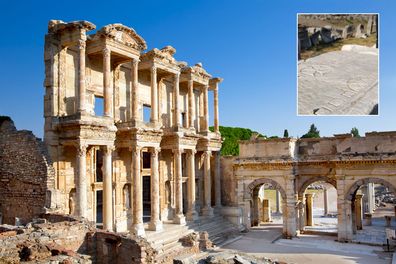 We traipse around the imposing facade of the Celsus Library and take a walk through terrace homes owned by the wealthy, where thousands of years later some now spend their days putting back together the beautiful marble interiors lost decades ago.
Aside from the rich history, I can't recommend the Turkish Delight enough. I snag a box by the harbour that is so good it never makes it back to Australian shores.
Next we journey to Patmos, an island you'd be stretched to visit unless you're one of the celebrities that frequent the secluded paradise on a private yacht – or are willing to brave an eight-hour ferry ride.
After silently strolling through the local monastery, noting its resident feline is hilariously hostile toward affectionate tourists, I decide it's time for a drink and find a stunning little tavern that overlooks the harbour.
Our group shares fresh octopus, tomato-stuffed dolomites and sips light red wine, while the braver down some ouzo.
We return to the art-deco style ship abuzz and are left to work out if we should catch the acrobatic show or head straight to karaoke – the latter succeeding to my embarrassment.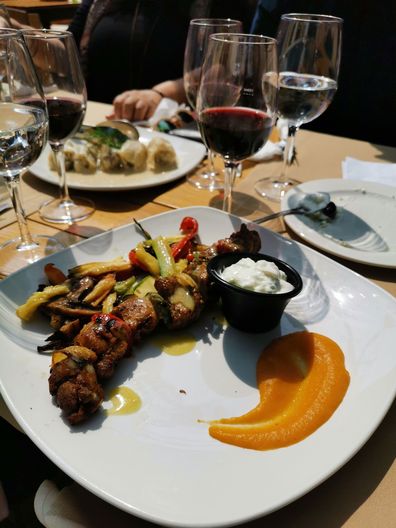 With seven bars to choose from and an array of different ethnicities and age groups onboard, I discover the predominant language spoken between guests is laughter and dance.
I spend a night swaying to a tune played by the live band with a beautiful woman named Iliana, only to discover the next day (after the effects of the unlimited drink package wear off) that she didn't speak a lick of English.
The beauty of this type of cruise is the activities that make the in-between travelling more authentic.
I've sat on enough tour buses to realise there's only so many card games or turns of 'I Spy' to keep one entertained.
As we make our way from island paradise to island paradise, I fail miserably at bingo, challenge myself to a language lesson and learn Skinos is a much better Greek liqueur for a cocktail than the famed ouzo.
I'd love to say I walked away from the Greek dance classes knowing anything more than a bad Zorba, but that's more to do with my lack of coordination than poor instructions.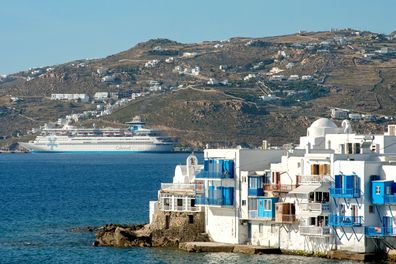 I try my hand at cooking feta parcels, and when I'm not up for cooking the different buffets spread across the ships provide an array of food options, from pastas and salads to a hardcore barbecue.
One day, we treat ourselves to a quiet three-course meal over white tablecloths and with napkins daintily placed in our laps at the ship's in-house restaurant overlooking the sea.
We're never trapped on the ship for extended periods but if I were to go again I'd take one of the longer cruises Celestyal offer, so I can spend a full day exploring in each location.
The five-day itinerary is perfect for ticking off those islands you miss at the end of a larger trip, or for those wanting a Mediterranean taster to see where to spend more time.
Yia Mas!
The writer travelled as a guest of Celestyal Cruises on the four-night Iconic Aegean itinerary. Rates start from $1339 per person, with meals included and optional drink packages. For more information or for bookings visit celestyalcruises.com.
LINK TO: https://www.celestyalcruises.com/en/4-night-cruise-iconic-aegean-piraeus