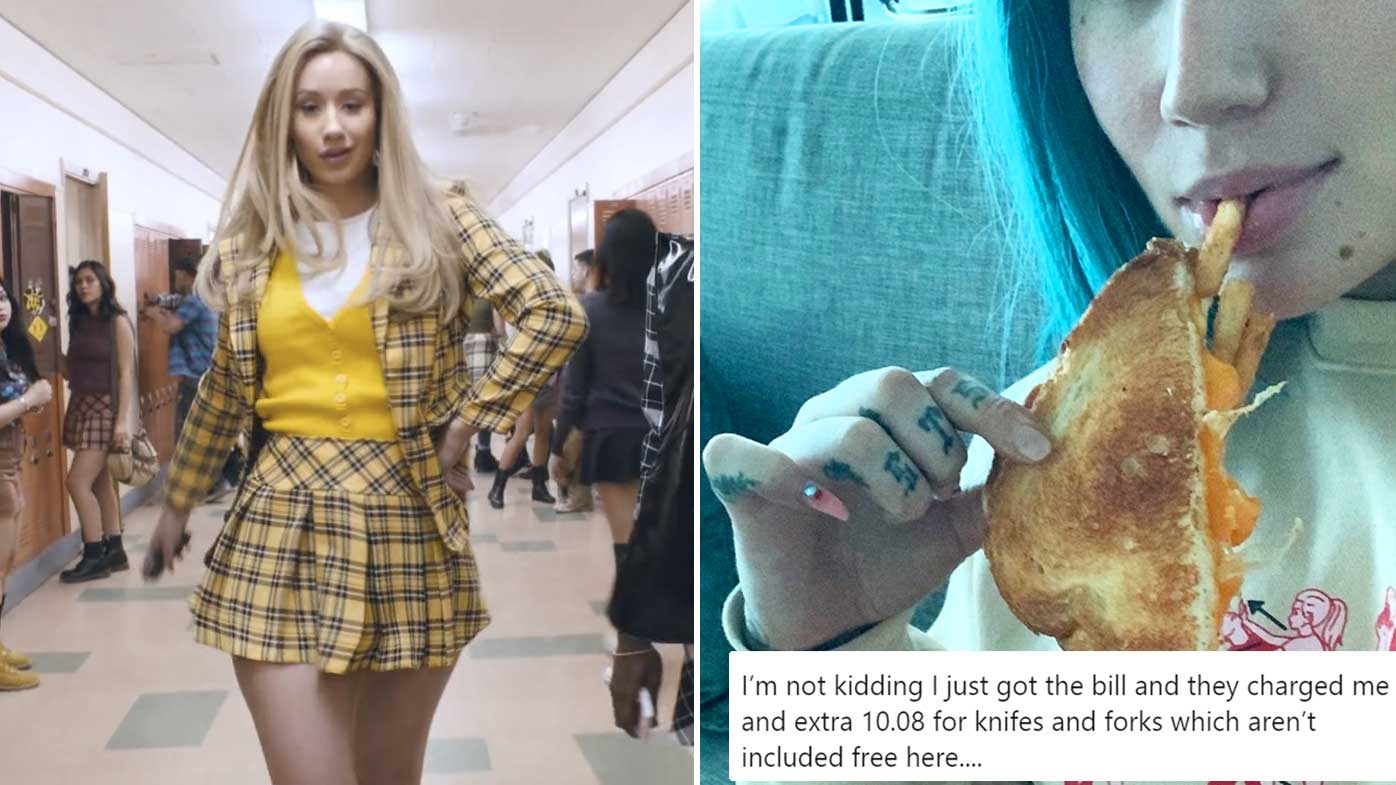 It seems between donning pricey wrist bling and "Champagne spillin'," even rap superstar Iggy Azalea takes the occasional break from the 'Fancy' life to order a cheese toastie while on the road.
Thankfully, she's not yet so out of touch that she's willing to let an absurdly expensive room service sandwich bill off the hook too easy.
The Fancy singer recently took to Twitter to vent after being charged an eye-watering $93 (US$64) for a Vegas hotel grilled cheese sandwich — and it evolved into one of the most hilarious threads we've seen.
READ: Travel fury over $9 bottle of water at Sydney Airport
"I just paid 54.00 for a grilled cheese sandwich. Las Vegas," she begins, alongside a fairly unimpressed-looking Oprah GIF.
But it doesn't stop there.
As if a US$54 sandwich isn't offensive enough, the rapper then realised she'd been charged an additional fee for cutlery. For a sandwich.
"UPDATE: I'm not kidding I just got the bill and they charged me and extra 10.08 for knifes and forks which aren't included free here….
"So grilled cheese (that I can eat with my hands) is now 64.08! We love scammers."
Of course, toastie-gate was far from over at that point, with the rapper then sharing a photo of her enjoying the humble sandwich and teasing her next actions.
READ: You can now buy cans of 'Pure New Zealand Air' for $100
"Plot twist: I'm reporting this card as stolen," she jokes, before making another amusing discovery.
The enterprising rapper's thoughts then turn to ways she can make that 93 bucks back — and then some.
In the unnamed hotel's defence, the sandwich and fries do look really good. But we'll be ordering from UberEats from now on, thanks very much.
READ: The unnecessary travel expenses you're probably guilty of spending