If you decided to explore other places while in Estonia, you might have found Viljandi, a small town located in the south of the country. Viljandi is the cute little town where you can find old buildings, many squares, and parks. This town is well known for its famous folk music festival – in fact, I traveled to Viljandi to attend this important event myself.
Before we discover Viljandi together, let's talk about this cute little town. Viljandi is also known for its cultural vibes. The locals love their festivals and even though the population of this town is quite small (just over 17,000), many visitors are coming over for the festival scene. Art lovers, theatre fans and musicians love to visit Viljandi.
If you decide to visit Viljandi for a weekend, I'd suggest you go there during summertime. In fact, you might want to coordinate your dates with the Folk Music Festival to make sure you can make the most of it.
In this article, we will explore the things to do in Viljandi featuring the reasons why you want to add this cute little town to your Estonia itinerary.
What to do in Viljandi, Estonia
Viljandi Folk Music Festival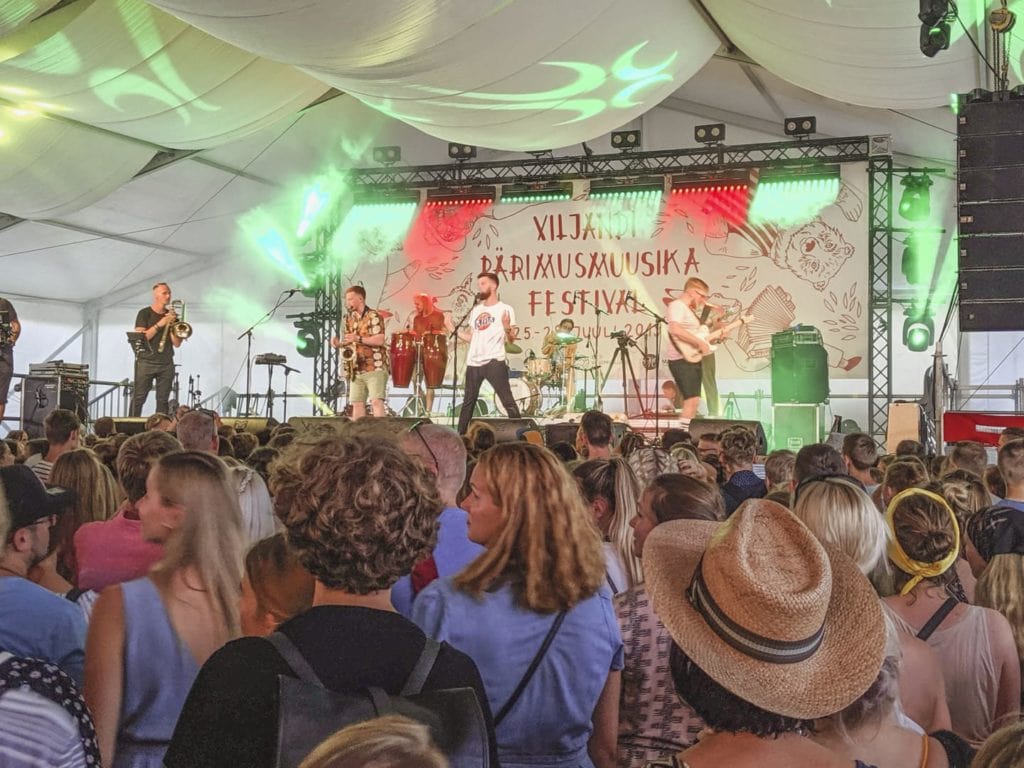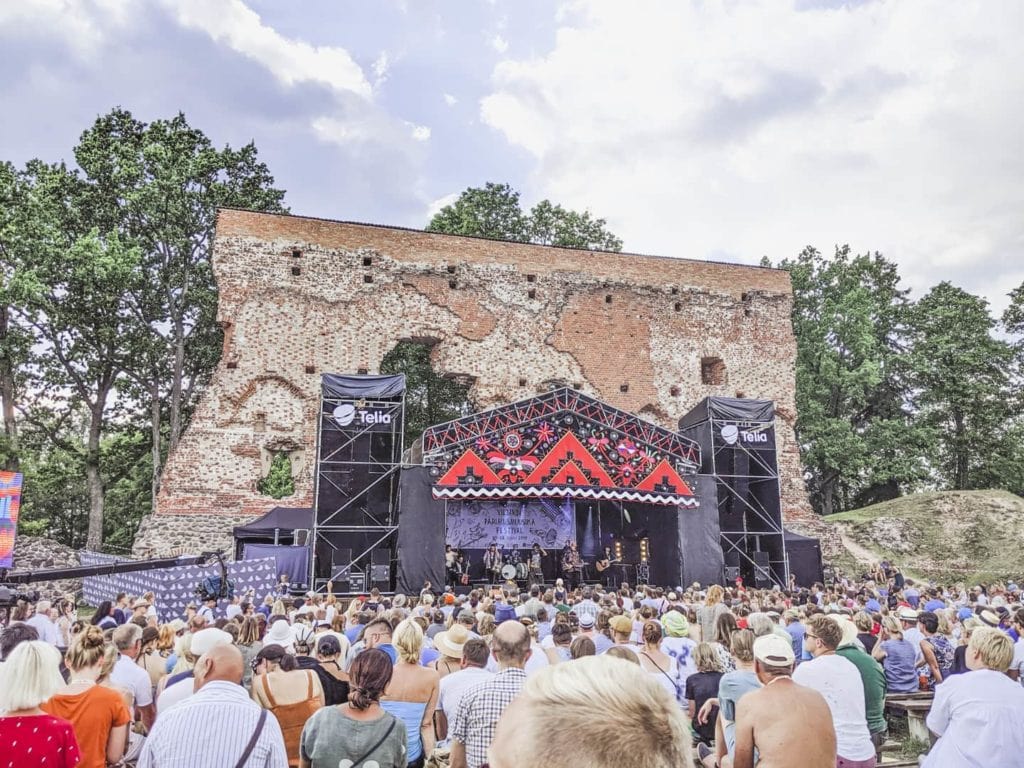 The Folk Music Festival exists for a few reasons; keeping alive the Estonian musical mother tongue as well as its musical identity, celebrate the identities of different cultures and nations. Yes – you read this right, Viljandi Folk Music Festival isn't all about Estonian music, you'll find plenty of groups from other countries too. This festival is targetting young and happy souls because let's be honest – folk music is going to make you smile. You can read more about the Viljandi Folk Music Festival here.
I, myself, traveled to Viljandi to attend this music festival. I was amazed by the variety of bands offering concerts. From Hungary to China, from Ghana to Canada, and of course, Estonia.
Boat Trip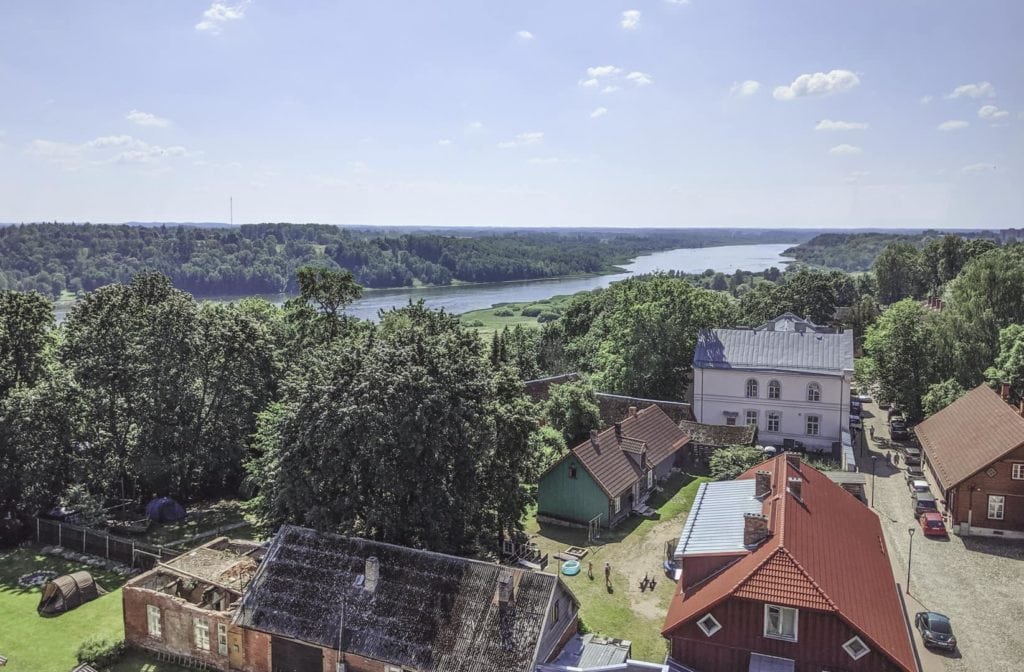 As soon as you get to Viljandi, you should look out for the views over the lake. Forget about busy beaches, the lake in Viljandi is rather quiet and ideal for a little escape from the city. You can enjoy the views from the boat, or relax with a picnic on the beach.
Walk around the Old Town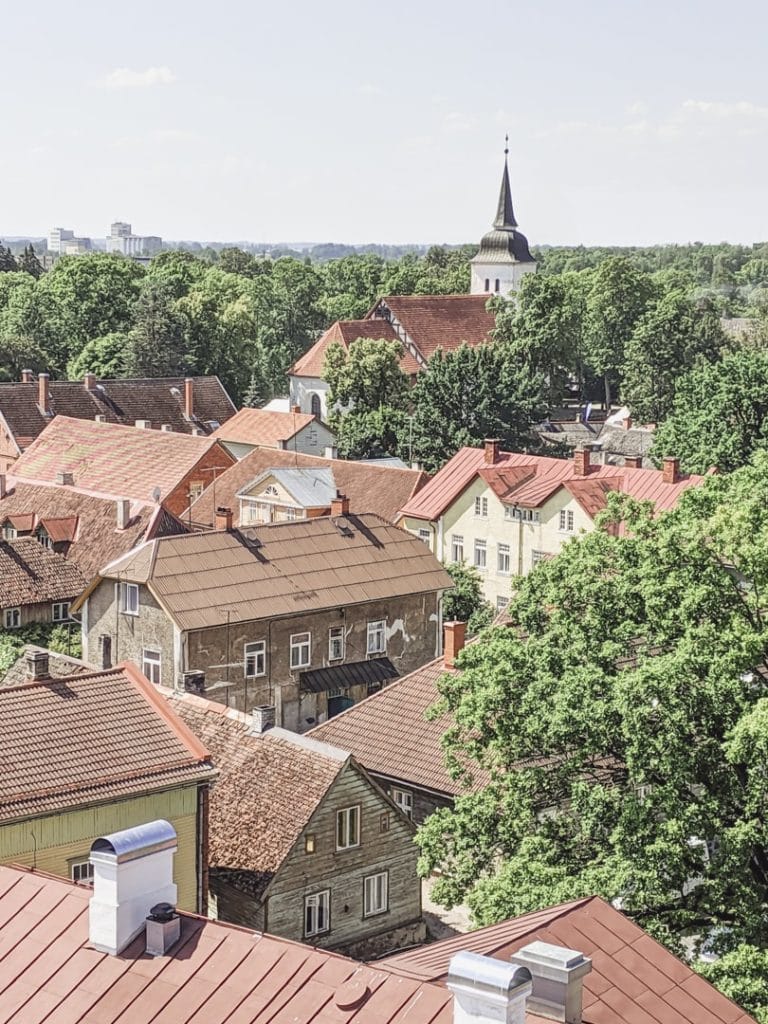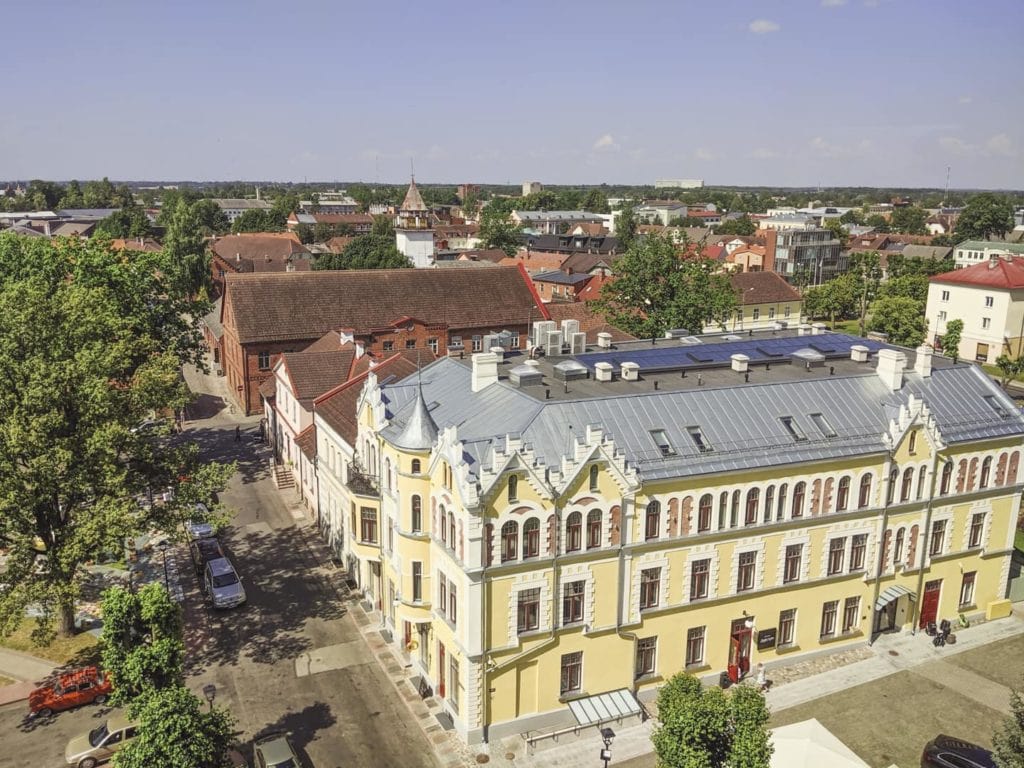 As soon as I got to Viljandi, I was surprised to realize how old the town was. The houses and buildings are very picturesque and every corner offers a new perspective. You'll find beautiful buildings around the town and you can even spot a very original and unique one – the Old Water Tower. While you're there, you might want to climb this tower too to get unique shots over the city.
You can also join a walking tour to learn more about Viljandi's history. Tours are offered daily from Vabaduse Square for only EUR 1. The tour departs at 1pm.
---
Want to get free accommodation in exchange for work? If you're traveling on a budget or if you're trying to stay on the road longer, you could consider exchanging your skills for accommodation. Worldpackers is a platform that connects hosts and travelers. You could basically volunteer in exchange for accommodation and board. You can read more about Worldpackers here. Get a $10 discount using this link.
---
Swing at Kirsimae Hill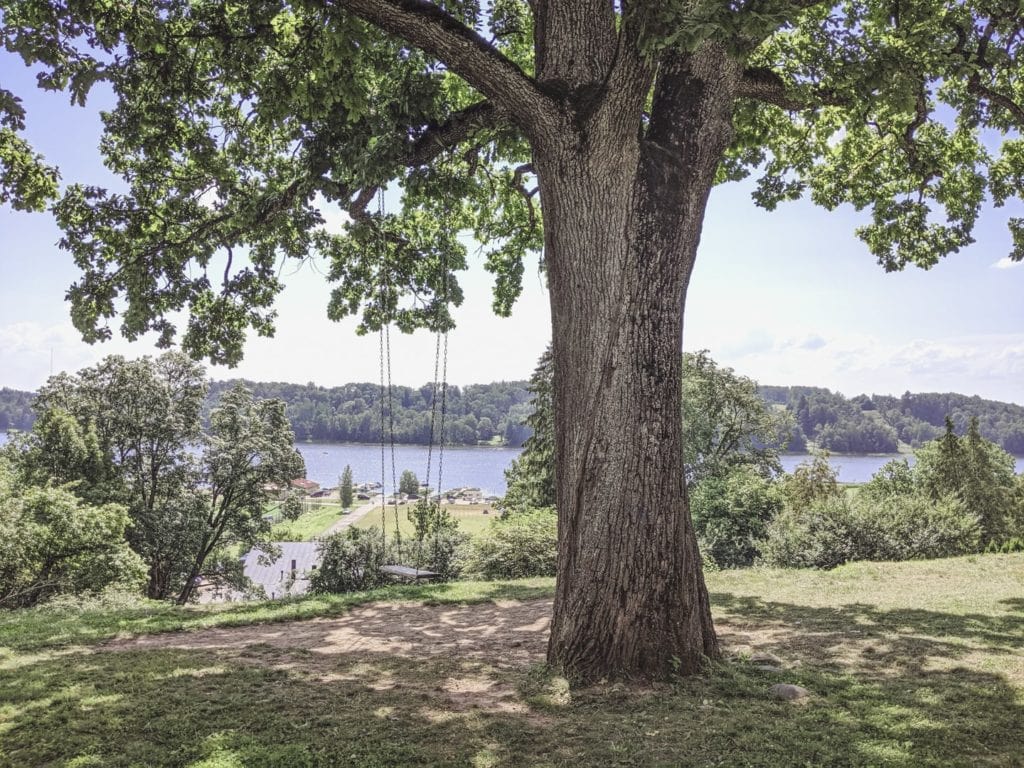 While you're trying to find the best views around the lake, you might stumble upon a big tree and a huge swing. Enjoy the views and bring a picnic. This spot is beautiful and worth visiting. You can often find a group of friends hanging out on this hill.
Grab a bite at Rohelise Maja Pood ja Kohvik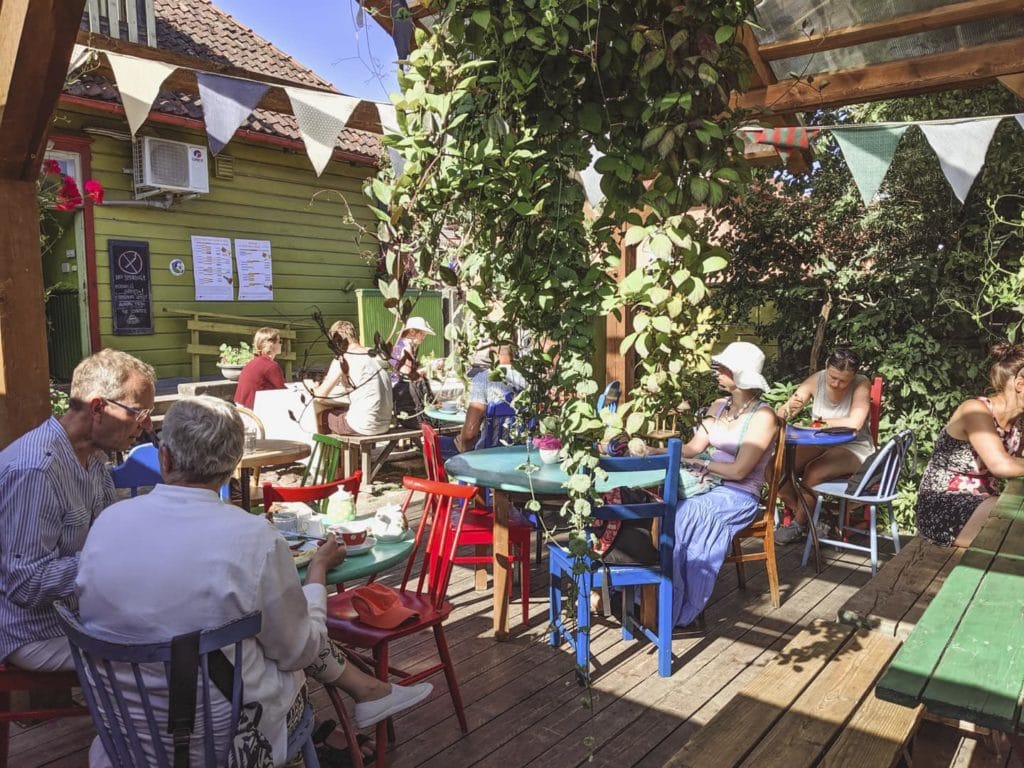 As I'm always on the run to find the best coffee in town, I was pleased to find this cute café called Rphelise Maja Pood ja Kohvik (save the location here) during my stay in Viljandi. They have a backyard offering a fun atmosphere where you'll find plenty of students and young people. They have a lot of delicious cakes and they offer the best coffee in town.
Walk around the ruins of Viljandi's Order Castle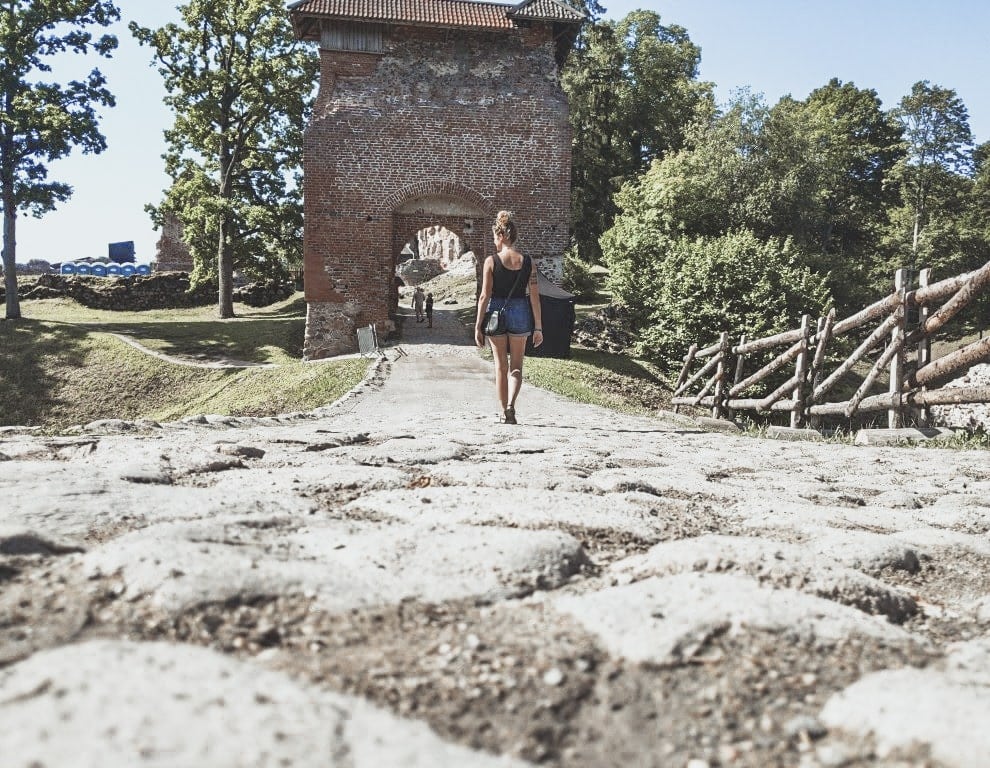 Surrounded by cute bridges, the ruins of the castles are located in a big park. This is also where the Folk Music Festival takes place. Imagine watching concerts surrounded by ruins – that's pretty epic.
As you walk around the park, you'll find ruins all over. It's pretty picturesque. You can even see the lake in the backdrop.
How to get to Viljandi?
You can take the train from Tallinn to Viljandi and it takes about 2 hours. For less than EUR 10, you'll get to Viljandi without problems. It's a cool day trip from Tallin, but while you're at it, you might want to stick around for a few days.
You could also take the bus to get there. Although, my research showed me the train was cheaper (and obviously, it's more comfortable).
How long should you stay in Viljandi?
Obviously, Viljandi is a small town, but while you're in the area, you could also visit other places around. I'm thinking of Heimdal, Sakalamaa, Mulgimaa, Soomaa. I haven't been there myself, but if you have more time, it could be a great idea especially if you are renting a car.
I'd recommend you to stay for a weekend, or to time it with the Folk Music Festival. Otherwise, you can also visit Viljandi for a day trip from Tallinn or Riga (Latvia).
Where to stay in Viljandi?
Viljandi is a small town, so there aren't a lot of options when it comes to accommodation. Here are the ones I would recommend.
Park Hotel – This is probably the best option when it comes to accommodation. It is, in my opinion, the most beautiful building found in Viljandi, with its bright yellow color. It's modern and you can tell it has been renovated just by the look of it.
Grand Hotel – This is where I stayed myself. I would say it's more of a mid-range hotel. It was good enough for a weekend and it comes with a breakfast buffet. The location was ideal especially since it was only a few minutes away from the music festival.
Academus Hostel Viljandi – There are a few hostels in Viljandi. This one has the best reviews and is super close to the Estonian Traditional Music Centre.
You may also like:
Get your monthly (and funny) dose of adventures! Subscribe now! #YesPlease
Are you enjoying this website? If your answer is yes, you should use my affiliate links to book your accommodation for your next adventure: Booking.com, Agoda and Hostelworld!

Disclaimer: This post may include affiliate links. This trip will be organized by the Viljandi Folk Festival. As always, all opinions are my own!