Coron, the beautiful island is located in Palawan in the Philippines and boasts of excellent beaches and picturesque scenery. It is, in fact, one of the best places for those seeking a wreck diving and snorkeling experience. There are plenty of other touristic things to do in Coron, although it is much smaller than El Nido. Once you arrive in Coron, you are sure to get taken in by the magical charm of the island and would be excited to go back again.
The right time to visit Coron is during the dry season from December to May. Avoid the rainy season, but the island would be sure crowded during the peak season. If you are wondering how to get to Coron, well you could either reach the inland by plane or boat.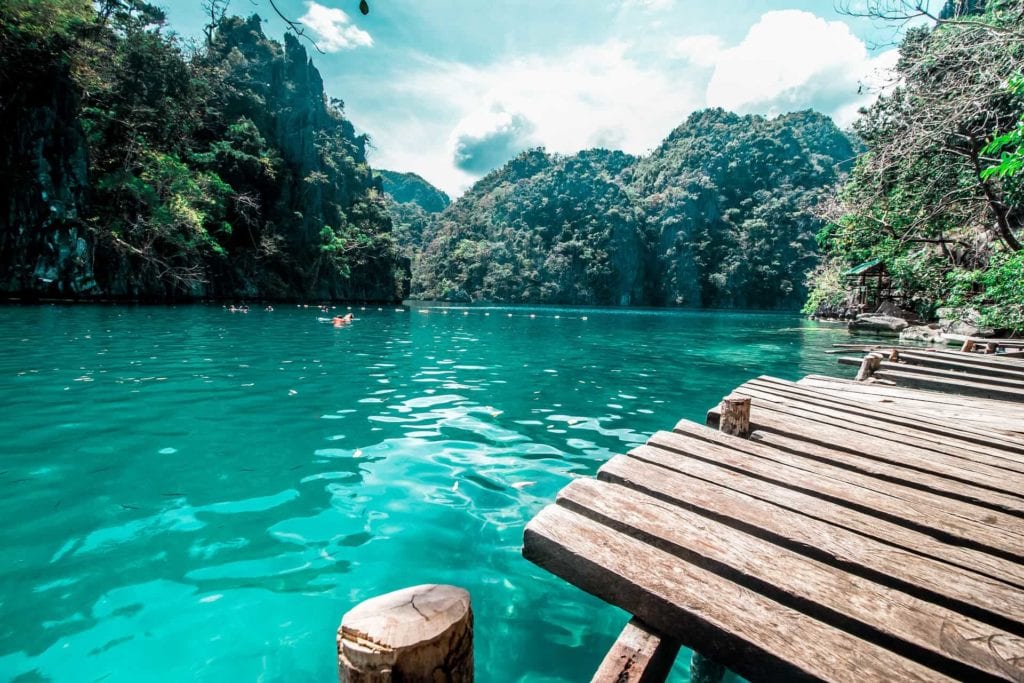 Getting to Coron by Plane
You can fly from Manila airport and arrive at Busuanga airport in Palawan. From Busuanga airport, you need to take a jeepney to reach te Coron, and the ride will take about an hour. Flying to Coron is indeed the most comfortable and fastest option but also expensive. There are several daily flights to Coron from El Nido, Manila, Cebu, Puerto Princesa, and Clark.
Getting to Coron by Ferry
Another popular means of traveling to Coron is by a ferry boat. Look for El Nido to Coron fast ferry services and get information on all possible ferry trips with prices and schedule at a reliable transportation booking site. Several companies offer the ferry services on different days of the week and carry different schedule based on the season.
It is a good idea to book well in advance for the main routes as there is always a massive rush of travelers. As El Nido to Coron is a popular route, there is always an ongoing demand for ferry trips. Some of the ferry options can be fast and take about four hours, but there are slow boats that will take about 6-7 hours. The faster ferries leave at 6 am from El Nido and reach Coron at around 10 am.
---
Did you know? You could get an extra Airbnb discount using this link! If you already have an account, you can create a new one. Thank me later!
---
Once in Coron, make the most of your trip as you would find yourself within a paradise. Find yourself surrounded by picturesque lagoons and lakes and spectacular limestone cliffs. The natural scenery with widespread flora and fauna and magnificent landscapes is sure to leave a permanent imprint of nature's beauty on anyone. Explore the with rich marine, and the fantastic underwater shipwrecks found only here in Coron.
Just book a faster ferry that connects El Nido to Coron from a reliable booking platform. Although many travelers prefer to take a direct budget flight to Coron, one should know that the Coron town is an hour from the airport. Still, flying is the quickest way to reach Coron. Buses are there but not so frequent. The ferry is turning out to be a popular way to reach Coron because of the growing number of ferry and boat service providers on El Nido – Coron route. Just be sure to know about the different ferry service providers, the timing, the prices, and how reliable and comfortable are their services.
Bookaway is one of the few booking platforms that is seen to be a reputed and reliable name among travelers planning for booking faster ferry services on El Nido – Coron route. The company provides comprehensive information on all the ferry routes and services, with detailed descriptions and reviews. All you need to do is start looking well in advance and book a ferry as per your needs, budget, and convenience.
---
READ MORE
‣ Trekking in Banaue-Batad
‣ Cebu on a budget
‣ Tips for visiting Albay
BEFORE YOU GO
☑ Book your flight: If your flight isn't booked yet – check out the flights on Skyscanner or via Google Flights. My top saving tip is flexibility. If you're flexible, you should be able to find a cheaper flight.
☑ Book your accommodation: I always use Airbnb and Booking.com. If you'd rather stay in a hostel, you should take a look at the options on Hostelworld. If you click on the Airbnb link and you don't have an account yet – you'll get a $30 discount on your first booking.
☑ Protect your cute face: Oh, you may want to protect your cute face with a travel medical insurance. I would suggest SafetyWing as they offer the best rates, especially for long-term travelers. Otherwise, you can also take a look at World Nomads.
☑ Pack the essentials: You can consult this list when it's time to pack your bag! Do not leave without a universal charger, a power bank and your passport!
☑ Do you need a visa? If you aren't sure if you need a visa, it would be a smart idea to take a quick look before you go. You can use iVisa – it's super useful and easy to use.
SUPPORT US
Get your monthly (and funny) dose of adventures! Subscribe now! You may also want to follow us on Facebook.
Disclaimer: This post may include affiliate links. If you click one of them, we may receive a cute commission at no extra cost to you. It's a great way to show your support. Thank you.